EVENTS ORGANISED BY CCPARIS


La Fête Indienne des Lumières
Carnatic Conservatory of Paris In association with Kalyan Association Nico's Wall an entire month is celebrated for India and Indian culture through the city of Ville de Rueil Malmaison and patronage of Indian Embassy.
Médiathèque Rueil-Malmaison
October 5th : Carnatic Konnakkol Workshop
October 7th : Carnatic Hindustani Jugalbandhi
October 8th : Raga and Yoga with Pradyumna
October 12th : Rangoli Workshop
October 19th : Saree & Makeup Workshop
October 5th : Vijayadashami and students performance
Shivananda Ashram, Orléans
October 8th & 9th : Concert and Workshop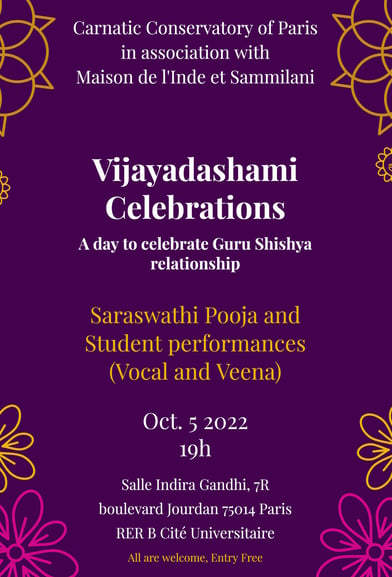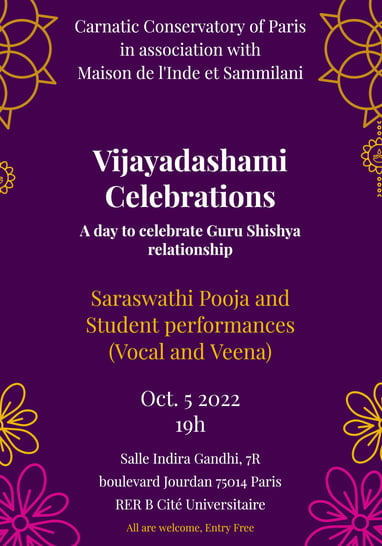 Celebrating 75 years of India-France Friendship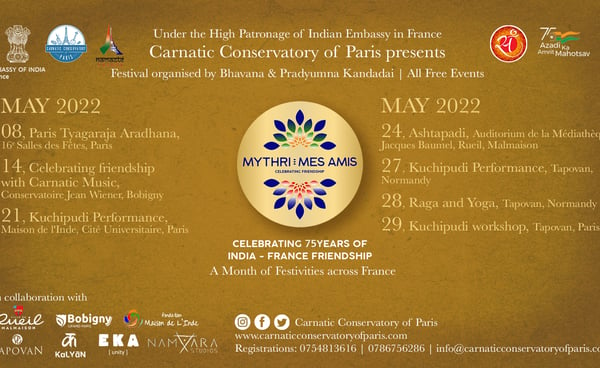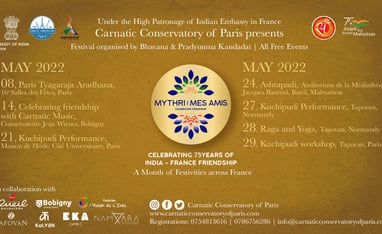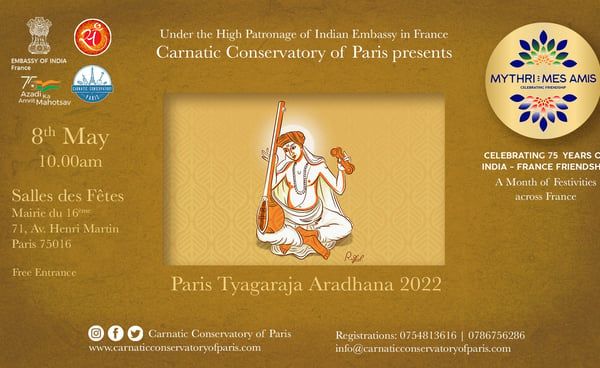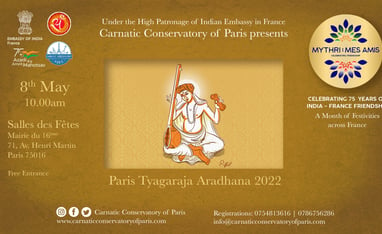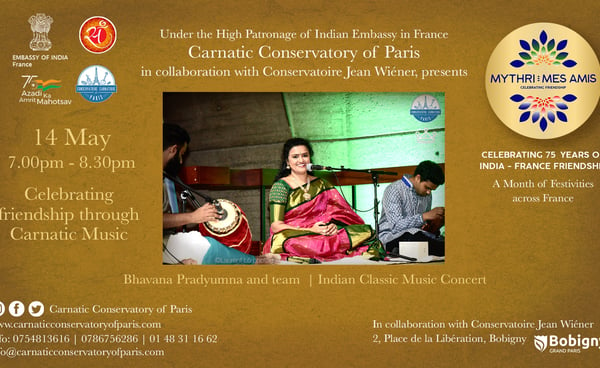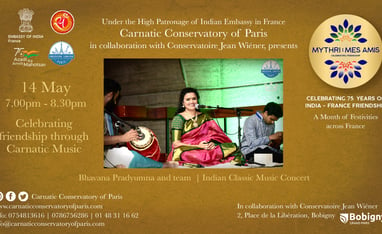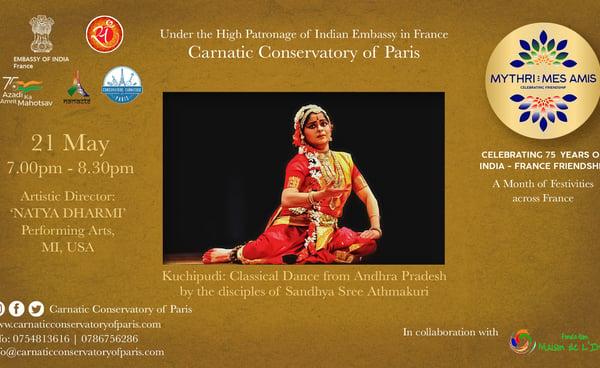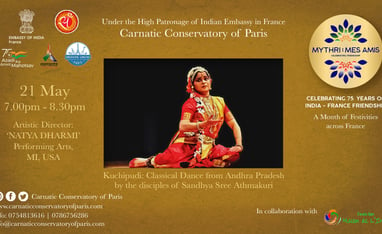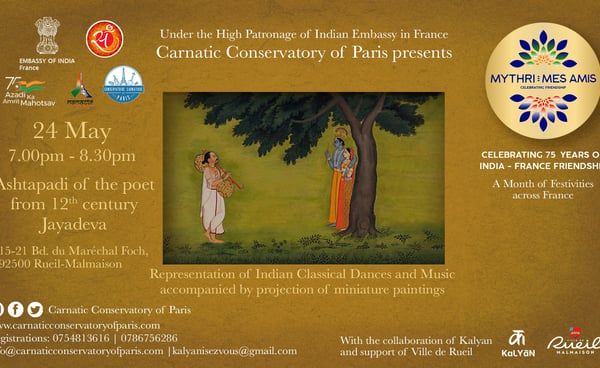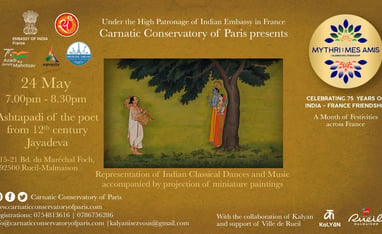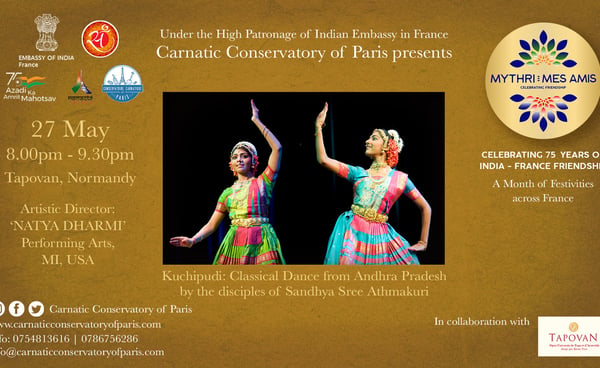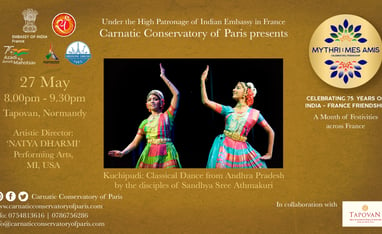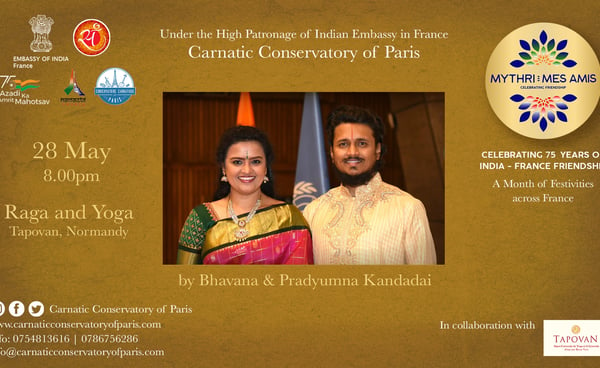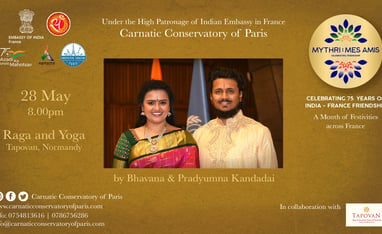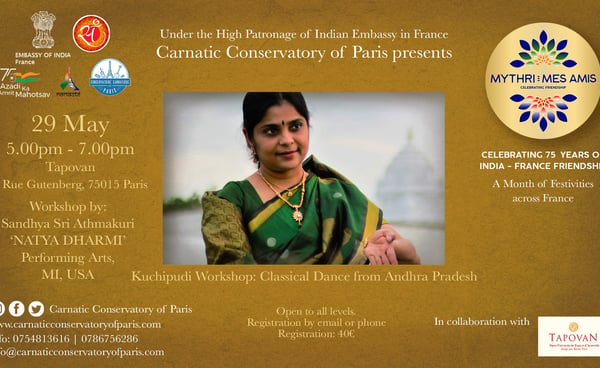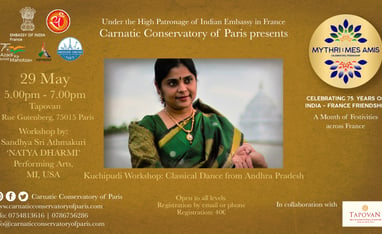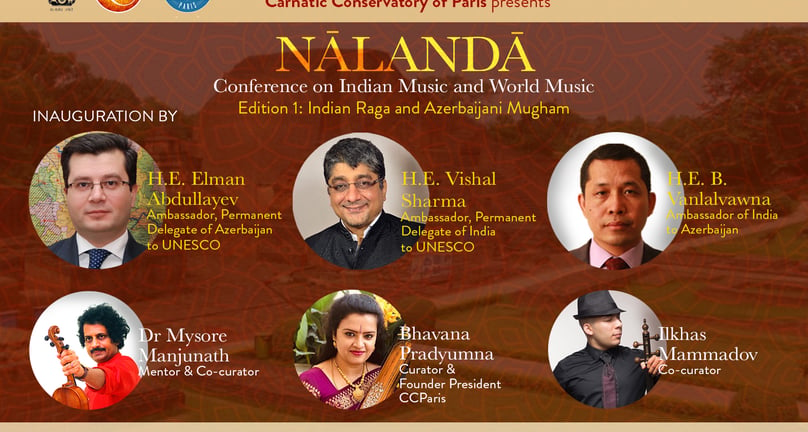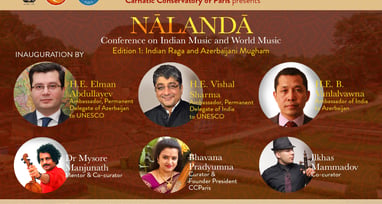 'Naalandaa' is an initiative by CCParis, which involves the study of Indian music and its relation with world music. The conference is not just an exchange of academic ideas, but a path to improve cultural exchange and improve bilateral ties promoting harmony, unity and exchange of knowledge. The first edition is a comparative and analytical study of the Indian Raga and Azerbaijani Mugham. We are also extremely happy to say that this is organised under the HIGH PATRONAGE of India at UNESCO, with the support of the Ministry of Culture, Government of India. With the High patronage, Permanent Delegation of India at UNESCO has identified this Conference as an event that promotes India-Azerbaijan cultural relations, hence improving the bilateral relations between the two countries. We also have the partnership of the Indian Embassy in Azerbaijan.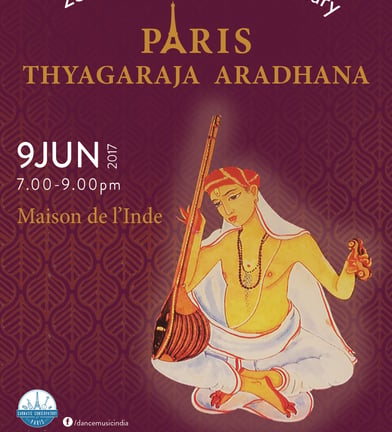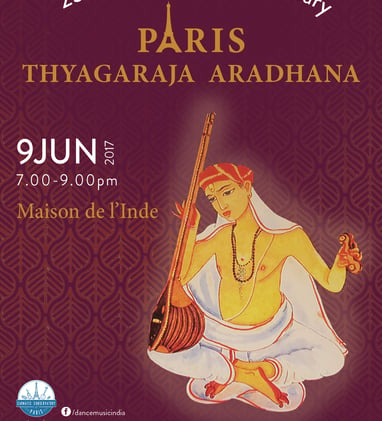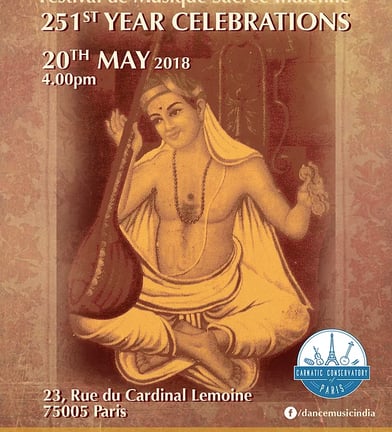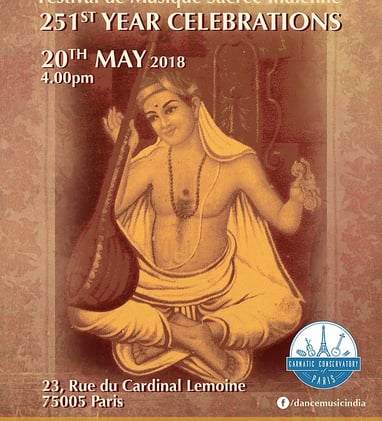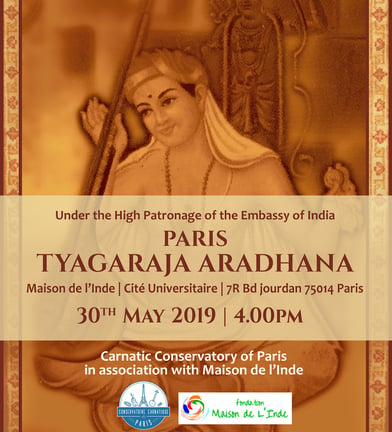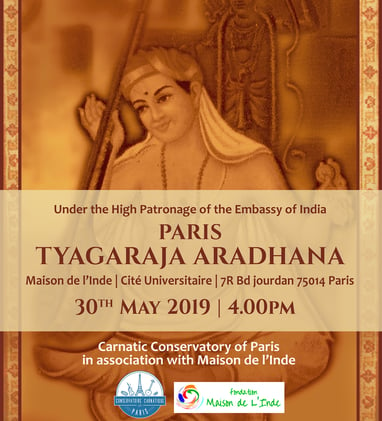 This event celebrates the annual aradhana of saint composer Tyagaraja. Carnatic musicians from all over the world descend and pay homage to the saint. The aradhana is observed on Pushya Bahula Panchami day, when the saint attained samadhi. According to the tradition, every year, musicians and devotees pay homage to Sri Tyagaraja by rendering his Pancharatna kritis, the five jewels.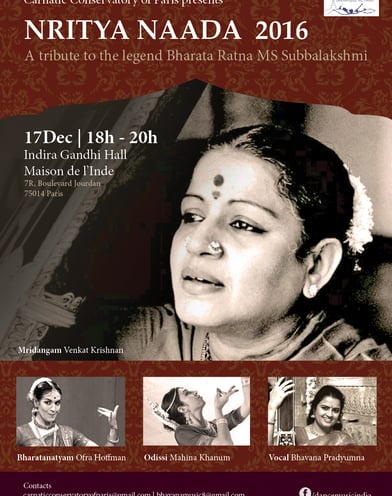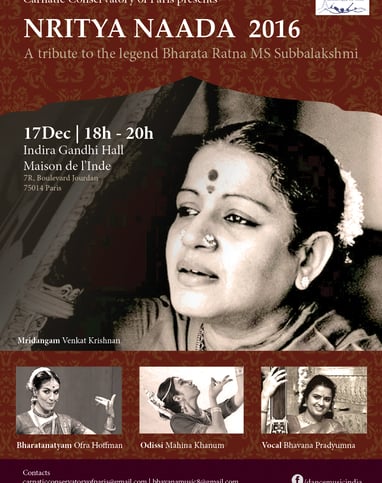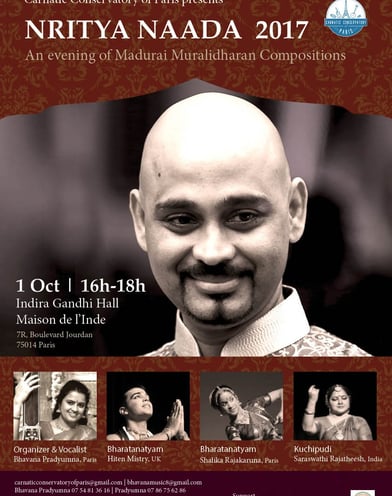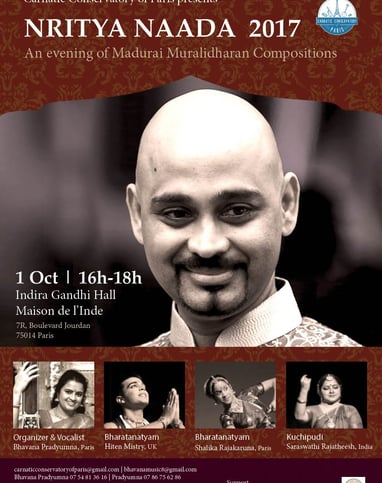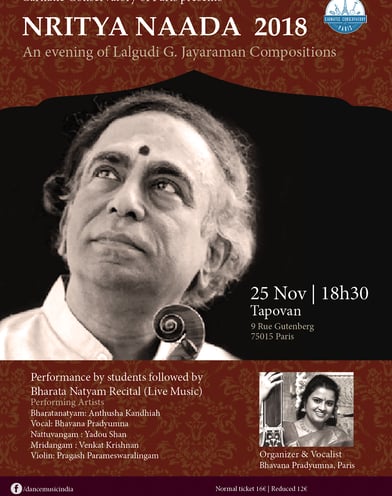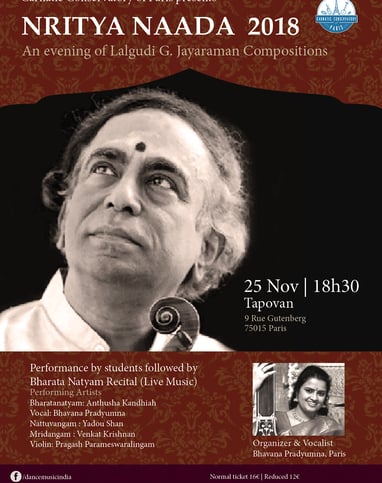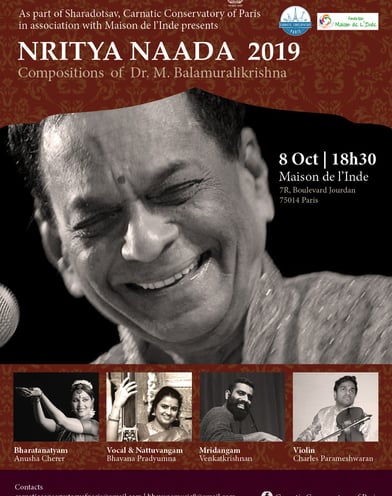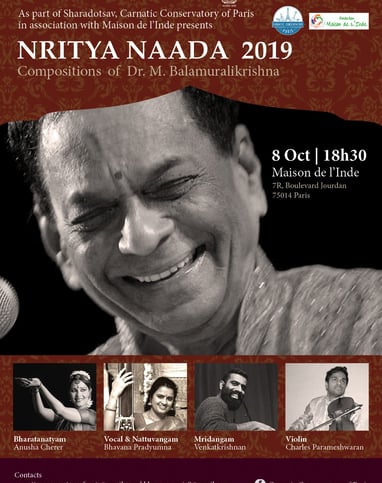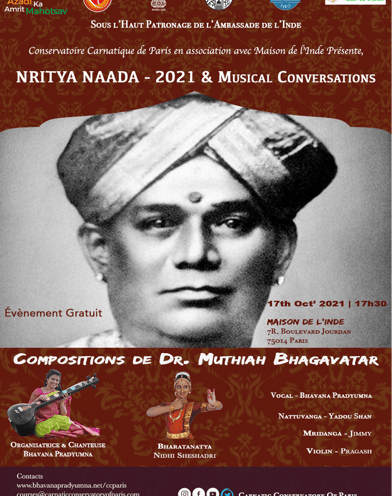 Nritya Naada is a calendar event organized by CCParis, a concept which is encouraging the fading glory of performing Indian traditional dance forms with live ensemble in a foreign land. The concept also involves presenting compositions of contemporary composers. In the past, Nritya Naada was organized in India and France involving artists from 3 different continents. Compositions of Dr. Balamuralikrishna, Madurai Muralidharan, Lalgudi Jayaraman, Chitravina Ravikiran was performed along with celebrating the centenary birth celebrations of MS Subbulakshmi amma. The year, 2021 witnessed compositions of Harikesahnallur Mutthaiah Bhagavatar.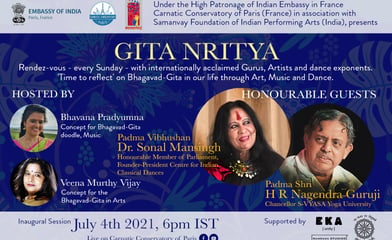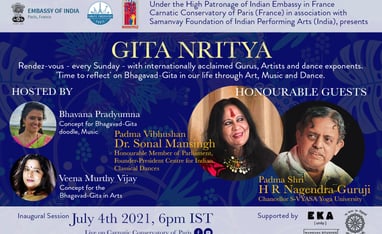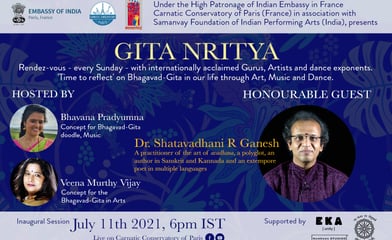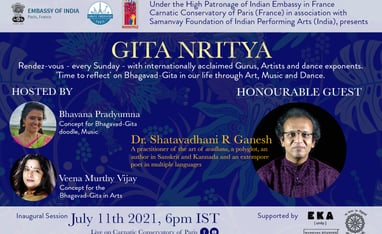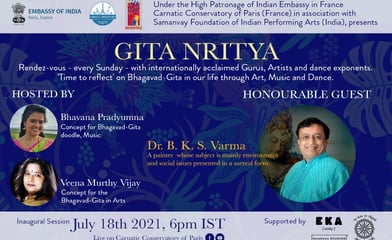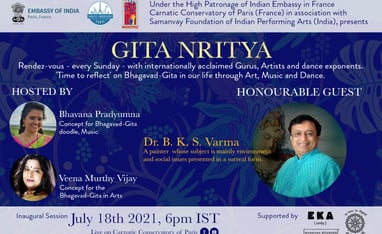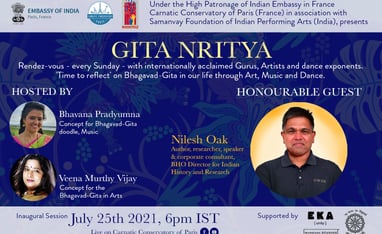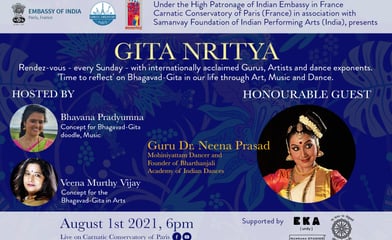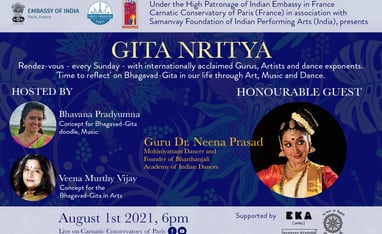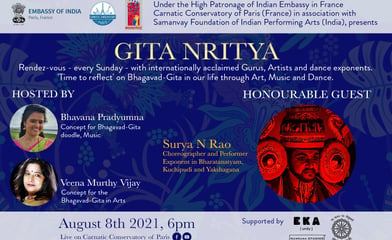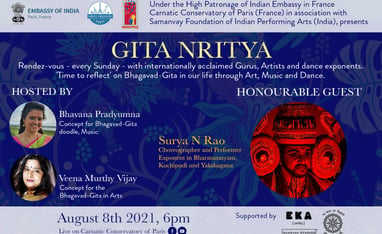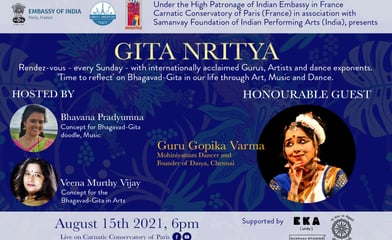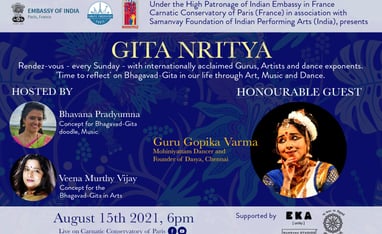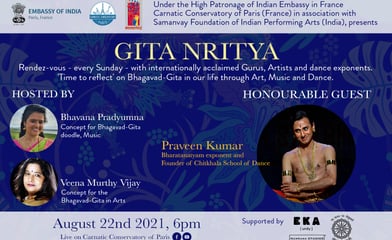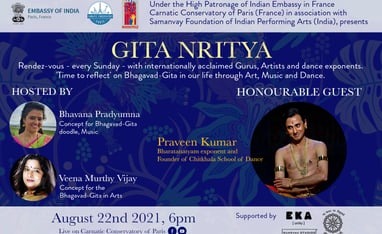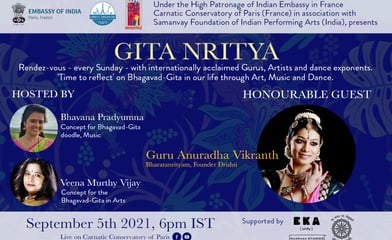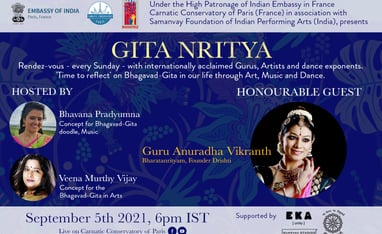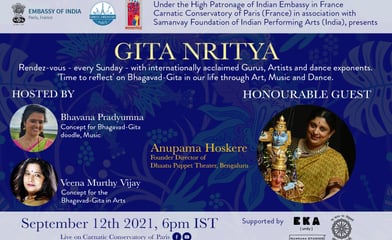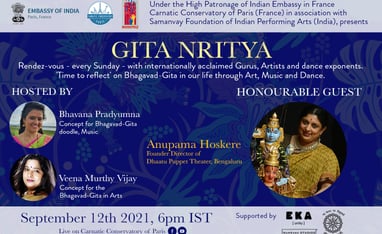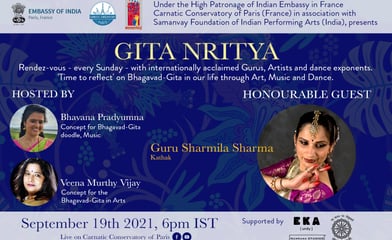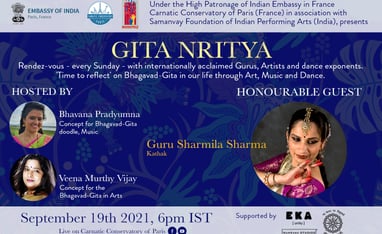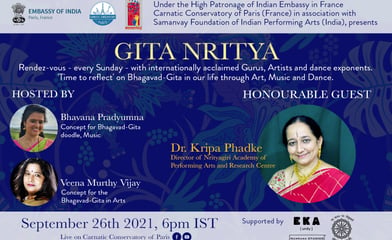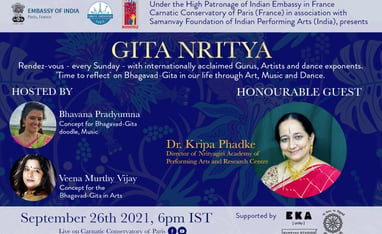 The iconic poetic verses of Bhagavad Gita, a conversation between Krishna and Arjuna, has inspired man to learn and live a meaningful conscious life. Under the High Patronage of the Indian Embassy in France, Carnatic Conservatory of Paris, in association with Veena Murthy Vijay Ma'am of Samanvay Dance Academy (Bengaluru), Gita Nritya sought valuable thoughts, experiences and reflections on 'The Bhagavad Gita' as part of the online webinar. The event is supported by NamVara Studios (Bengaluru). EKA [ unity ] (Portugal) and Samskara Bharati (India). Indian culture and arts have always impacted the quality of an individual's life. The event includes two main artist sections: 1. Playing recorded video of the artist performed for Bhagavad Gita shloka; 2. Live interactive session to discuss different aspects of the Gita, and its influence artist's life.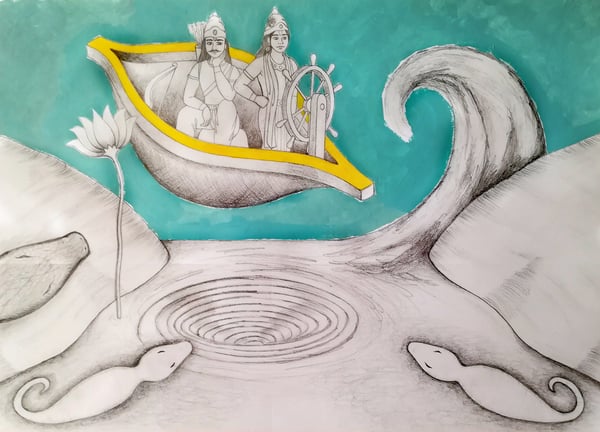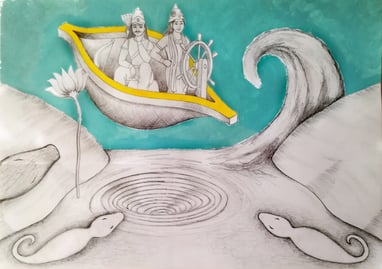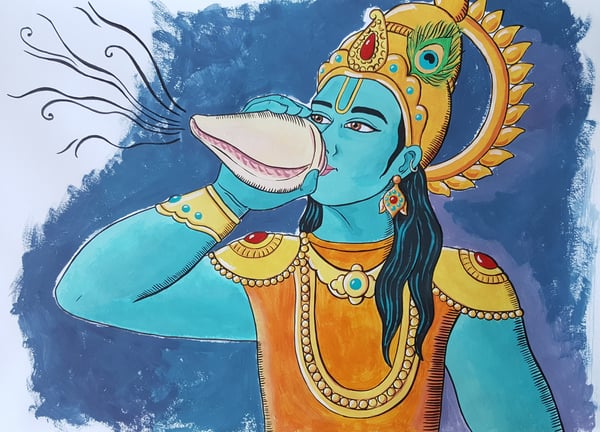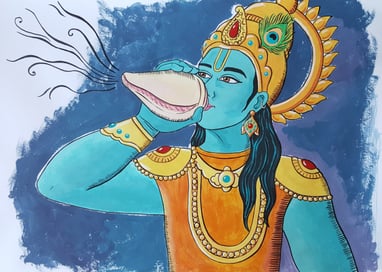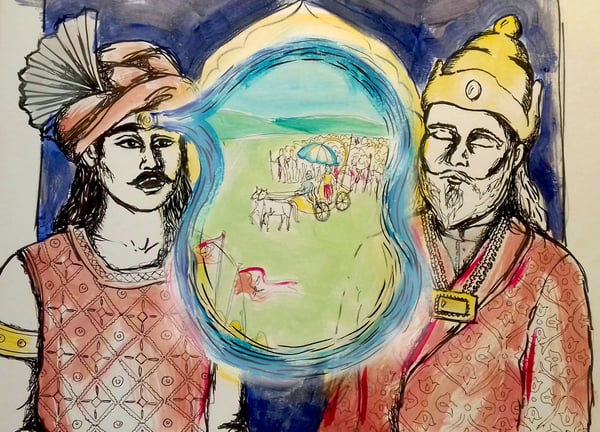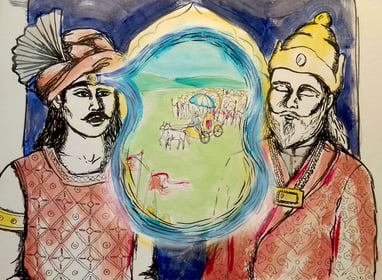 'Bhagavad Gita Doodle' is an innovative effort conceptualised by Bhavana Pradyumna. 'Bhagavad Gita' is a series of life lessons imparted to Arjuna in the middle of 'Mahabharata' by Lord Sri Krishna, many centuries ago. With a vision to take the beauty of Gita to a larger audience across the world and make it relevant to the present generation, CCParis has conceptualised this project to present 'Bhagavad Gita' in a simple and interesting way, using doodle videos. 'Time to reflect' offers a scope for contemplation after each episode. Under the High Patronage of Indian Embassy France, the project is presented in French and English languages. Videos include presentation of Gita verses with doodle illustrations, with melodious renditions and colourful illustrations. Eshani Lasya, from EKA [ unity ] project based out of Portugal, is offering her services with colourful illustrations to each episode. Sreekanth Rajagopal, along with Bhavana, create the content. Namvara Studios (Bengaluru), under the leadership of Prasanna Keshava, is assisting with audio mastering. Nadine Ayen is rendering her services in translating to French.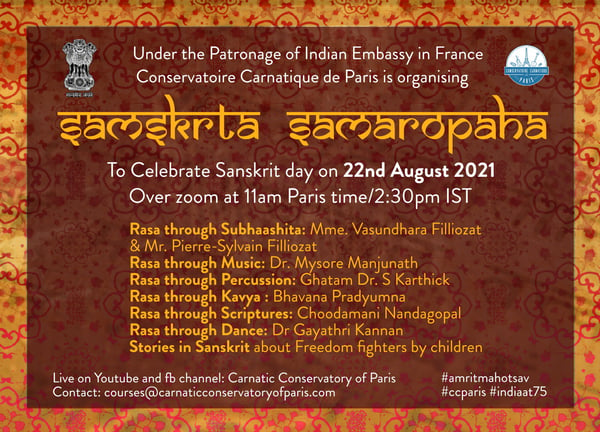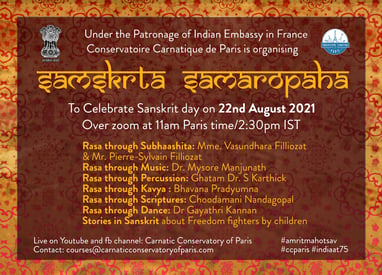 With the support of the Indian Embassy in France, Carnatic Conservatory of Paris, France organized Samskrta Samaaropaha as part of World Sanskrit Day on August 22nd, 2021 as part of Amrit Mahotsav. The theme for the celebration was Rasa through different forms like Subhashita, Music, Dance, Sculpture, Percussion and Kavya.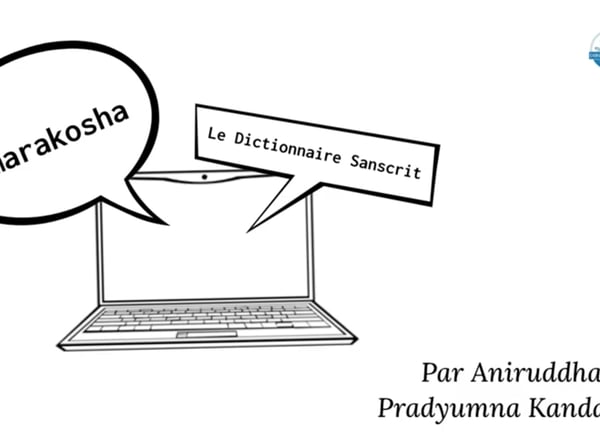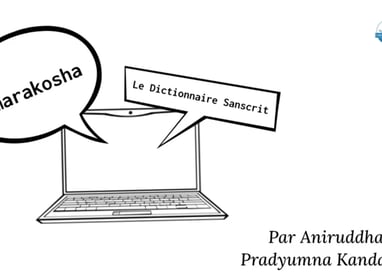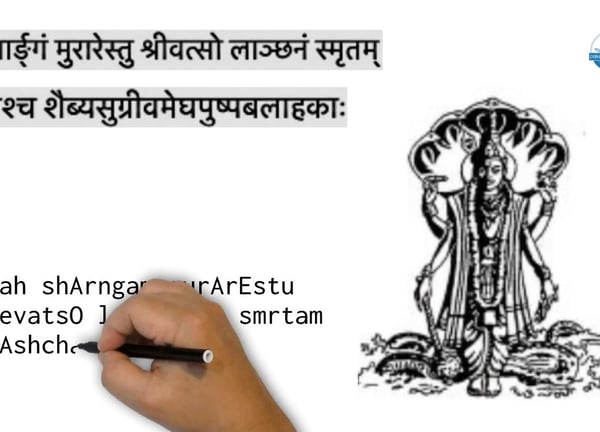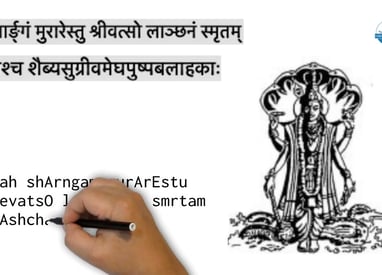 Aniruddha is an 8 year kid who is passionate about learning different languages. Inspired by his mother's work on Bhagavad Gita Doodles, Aniruddha has started the Amarakosha Doodle videos voluntarily. He wishes to dedicate these videos to his grandather Sri K V Srinath who had memorised the entire Dictionary at the age of 8. Aniruddha feels blessed to get guidance from his Guru Sri Rohit Sharma who teaches Amarakosha and Spoken Sanskrit. Aniruddha Kandadai, son of Bhavana Pradyumna and Pradyumna Kandadai, who first identified the ragams at the age of 16 months, is trained by his mother Bhavana Pradyumna. He loves to play chess and enjoys coding. Aniruddha can read and write 8 languages - Sanskrit, Kannada, Tamil, Telugu, Hindi, English, French and Russian. He learns Carnatic Vocal, Konnakkol and Mridangam along with his school activities. Creating Doodle videos is his new found hobby!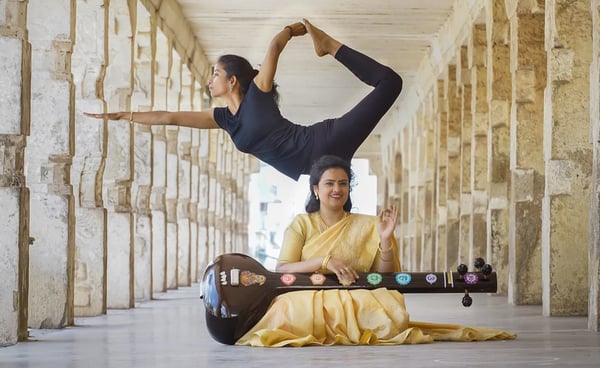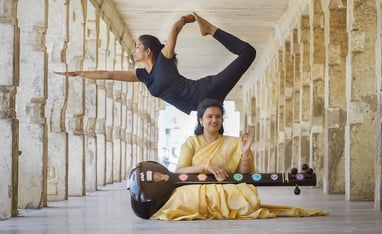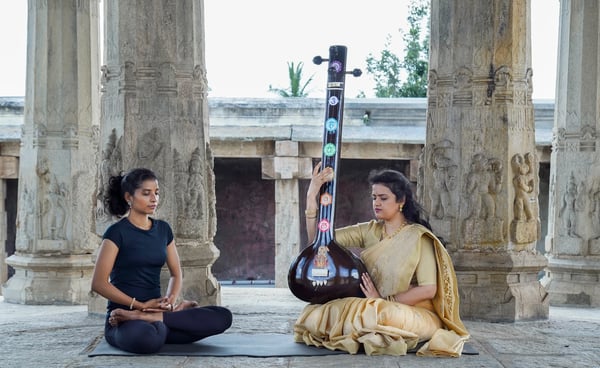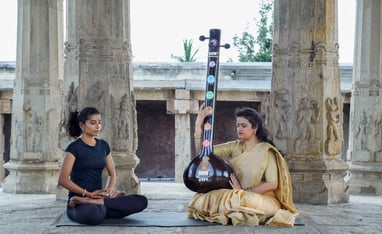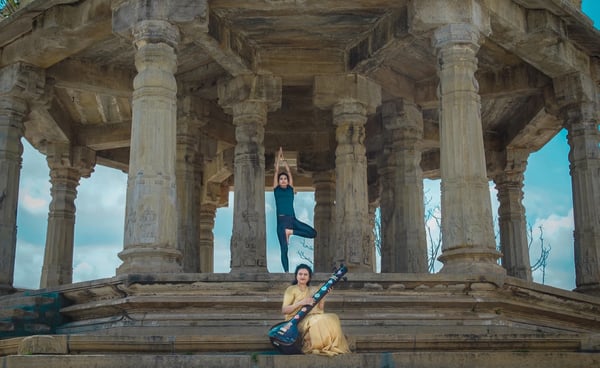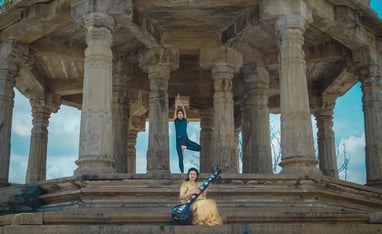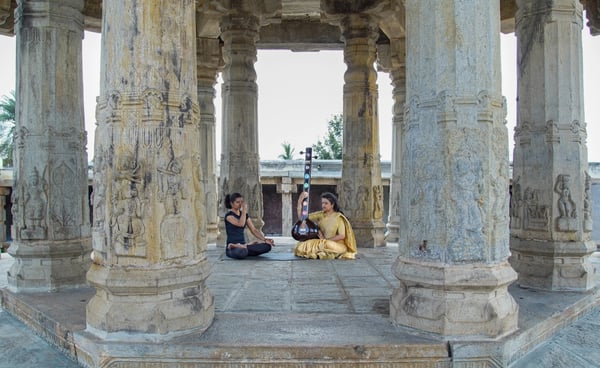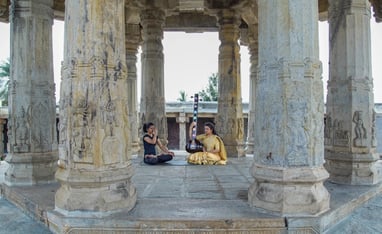 A concept pioneered by Bhavana Pradyumna. It was conceptualised with a vision: to beautifully confluence the melody of Raga with the poise of Yoga. Yogis and Yoginis would perform yoga, while Raag Aalaap, and Mantra chantings would blend in, to create positive vibrations, and a peaceful experience.